Assistant Instructor ISO 24802-1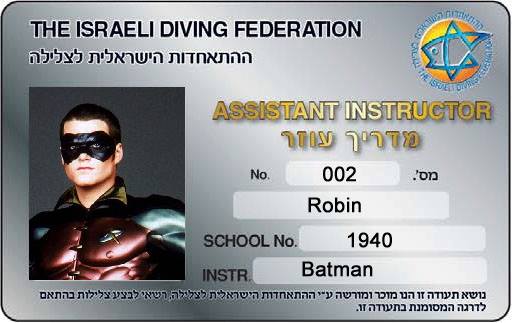 The Assistant Instructor class provides a gateway to the world of dive instruction. In this class the diver
receives the basic tools for conducting a dive briefing, and is certified to perform refresher dives and
introduction dives within a dive shop or dive club.
The TIDF Assistant Instructor rating is unique in that in addition to certifying the Assistant Instructor to
perform refresher and introduction dives, the Assistant Instructor is also certified to carry out the in-water
modules of the TIDF Two Star (Advanced Open Water) class.
Learning objectives
Instill in the diver the elementary foundations of dive instruction.

Certify the Assistant Instructor to perform refresher dives

Certify the Assistant Instructor to perform introduction dives
Prerequisites
Must be certified as a Master Diver or equivalent.

Must have a minimum of 100 logged dives.

Minimum age of 21 at the start of the class.
Class structure and topics:
The class comprises two parts:
The first part includes a minimum of four days training, conducted by a Training Instructor under the
supervision of a Senior Instructor, where the divers will be trained in the following topics:
Performing Introductory Dives

Performing Refresh Dives

Teaching the practical part of a Two Star (Advanced Open Water) Course

Teaching the One Star (Open Water) Mask-Snorkel-Fins Module

Carrying out a Dive Briefing

Teaching the One Star (Open Water) SCUBA Gear Module

Rescue Procedure
During the second part of the class divers will be required to pass several exams testing their knowledge
of theory and practical skills in the topics listed above.
Note: If the Assistant Instructor class is taken as part of Instructor Training, the Rescue Procedures and
Decompression Theory exams will be taken as part of the Instructor Exams.
Certification and limits:
All certifications are valid only when working within a TIDF-certified dive shop / dive club.

May assist a certified Instructor in Open Water training (A certified Instructor may train up to 10

divers when working in tandem with an Assistant Instructor).

May perform Refresh Dives for all levels of dive certifications.

May perform guided dives for One Star (Open Water) divers.

May perform Introduction Dives.

May perform all dives of the practical in-water portion of the Two Star (Advanced Open Water) class, with up to four divers.

May join a Certified Advanced Instructor in performing the Deep Diving portion of the Master Diver Certification.