TIDF Complying with ISO Standards
The Israeli Diving Federation courses are certified as compliant with ISO standards for Recreational Diving Services
In early 2012, the Israeli Diving Federation (TIDF) decided that it was appropriate to conduct a quality test for the organization by external and independent reviewers.
The TIDF invites auditors from the Austrian Standards Institute to carry out an audit review according to the International Standards Organization - ISO
In recent years, ISO has established international standards that define:
Five Diving Standards.
Two standards for diving training.
Diving service providers.
| | | |
| --- | --- | --- |
| ISO Reference | ISO Title | TIDF Equivalent |
| ISO 11121 | Introductory training programs to scuba diving | Introduction for diving |
| ISO 24801-1 | Diver Level 1 - Supervised Diver | |
| ISO 24801-2 | Diver Level 2 - Autonomous Diver | One stsr diver – open water diver |
| ISO 24801-3 | Diver Level 3 - Diver Leader | 3 stars diver - DiveMaster |
| ISO 11107 | Training programs on enriched air nitrox diving | |
| ISO 24802-1 | Instructor Level 1 | |
| ISO 24802-2 | Instructor Level 2 | |
| ISO 24803 | Recreational scuba diving service providers | Dive center |
A diver who has successfully passed a TIDF Diving Course can be proud of meeting the highest standards set in the world.
At the end of 2012, the first audit was conducted by two auditors, members of the Austrian Standards Institute representing the of European Underwater Federation – EUF, which over the course of a week examined the training systems, the means and the training methods and found that the Israeli Diving Federation complies with ISO standards.Along with receiving the certification, the Israeli Diving Federation joined the EUF and its representatives participate in conferences and discussions in which standards are written and conducted worldwide.
Five years after the first ISO audit passed successfully, in November 2017 auditor from the Austrian Standards Institute renewe our ISO certification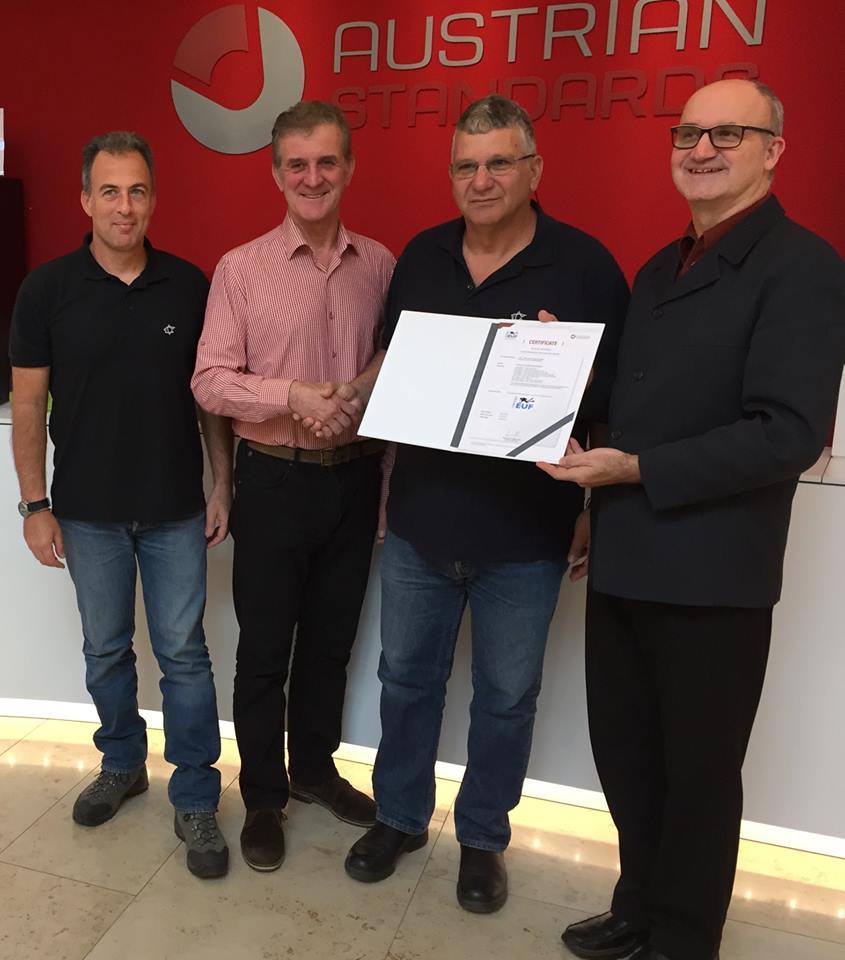 Pictured: Dr Peter Jonas of the Austrian Standards Institute and Mark Caney President of the European Underwater Federation give the ISO standard certification to the association's chairman, Dror Bloch and Dr Boaz Meisel, at the EUF conference in Vienna.